What are the Steps to Apply for a New Bike Insurance Policy Online?
The bike insurance industry has undergone substantial changes as insurers aim to cater to a wide range of market segments and their unique needs. In a bid to improve customer convenience, insurers are introducing a variety of features, with one notable innovation being the ability to apply for bike insurance online, streamlining the entire procedure. As you may already know, Shriram General Insurance provides online bike insurance. In this blog, we will delve into the different types of insurance plans and the advantages of purchasing them through online channels.
Types of Two-Wheeler Insurance
Before we discuss the benefits of insuring online, here are the different types of bike insurance policies available for Indian bikes.
Third-Party Liability Bike Insurance
According to the Motor Vehicles Act in India, third-party liability insurance is mandatory for all vehicles. This type of insurance covers the policyholder's liability from any damage suffered by third parties due to an accident caused by the insured bike. Third-party bike insurance compensates for injuries, fatalities, and vehicle damage caused to third parties in accidents. It is important to note that third-party liability insurance does not cover any loss or damage to the insured bike itself.
Own Damage Cover
An own-damage two-wheeler insurance policy covers damage to the insured bike. It provides coverage for losses caused by natural calamities, man-made disasters, bike theft, and total destruction (when the damage is beyond repair). However, it does not extend to cover the liabilities towards third parties involved in an accident.
Comprehensive Bike Insurance
A Comprehensive Bike Policy provides the coverage of a Third-Party Plan as well as coverages offered under an OD policy. Coverages under this plan include third-party liabilities, accidental damage, fire damage, natural disasters (floods, earthquakes, etc.), man-made calamities (riots), and theft protection. Also, under this plan, you have the option of selecting add-ons and a Personal Accident (PA) cover (legally mandatory).
How to buy an insurance policy online with Shriram General Insurance?
To learn how to apply for bike insurance online, follow these simple steps:
Step 1: Visit our website www.shriramgi.com or mobile app (MySGI).
Step 2: Enter your two-wheeler registration number and your registered mobile number.
Step 3: Enter the OTP and select the policy type and include optional add-ons if required.
Step 4: Pay the premium online and insure your vehicle instantly.
Benefits of Online Insurance for Two-Wheelers:
Purchasing two-wheeler insurance from online insurance providers like Shriram General Insurance offers various advantages, providing a smooth and efficient experience for policyholders. Here are some key benefits of buying two-wheeler insurance online:
Convenience
Applying for bike insurance online is a convenient process. Policyholders can select the policy coverage and premium from the comfort of their homes, irrespective of their location or time. The online platform facilitates quick and simple comparisons of multiple policies, making the entire process simple and convenient. Moreover, policy renewal becomes easy with online purchase options.
Direct Contact
By buying bike insurance online, policyholders can directly interact with the insurance company's authorised personnel, eliminating the need for any intermediaries and additional charges. In case of any queries or concerns during the application process, policyholders can access the company's customer care assistance without any additional fees.
No Paperwork
Unlike offline purchases, buying bike insurance online involves minimal paperwork. Policyholders are not required to make various photocopies of documents related to their bikes. Instead, completing a few simple online forms will be enough to get the insurance plan.
Cost-Effectiveness
Buying online two-wheeler insurance saves a significant amount of money. Policyholders can avoid visiting the company branch or waiting in long queues to submit applications. The absence of intermediaries eliminates broker fees, and minimal paperwork reduces additional expenses.
Secure Payment
Bike insurance online application process is a secure process. After payment, policyholders get a receipt at their registered mobile phone number or email address, ensuring transparency and proof of payment.
How to Calculate the Premium for Two-Wheeler Insurance Online:
To get a realistic premium price for your policy, use a bike insurance calculator available on the insurer's website. Enter relevant information, including your mobile number, email address, bike registration number, and registration year. Choose the type of insurance policy you like to purchase, and the calculator will generate the premium amount in seconds.
Conclusion
Buying a two-wheeler insurance online from insurers like Shriram is undoubtedly the most convenient and efficient approach. Policyholders can get various benefits and compare policies to make well-informed decisions. After successfully applying for bike insurance online, it is essential to keep a careful copy of the policy document.
FAQs
Is purchasing bike insurance online secure?
Yes, purchasing bike insurance online is secure if you buy from a licensed insurance company such as Shriram General Insurance.
What is long-term bike insurance?
Long-term bike insurance offers coverage for an extended period, reducing the need for frequent renewals. It also protects policyholders from future increases in premium rates.
What happens to my insurance policy if I sell my two-wheeler to another person?
If you sell your two-wheeler to another person, the process involves a name transfer endorsement and transferring ownership of the insurance policy to the new owner.
How do insurance companies calculate the two-wheeler insurance premium?
Insurance companies calculate the two-wheeler insurance premium based on factors such as the Make and Model of the bike, Year of Manufacture, Insured Declared Value (IDV), Type of Insurance, Add-ons, and No Claim Bonus (NCB).
What does the term IDV mean?
IDV stands for Insured Declared Value. It is the maximum compensation an insurance company will offer in the case of total loss or theft of the insured two-wheeler.
You may be interested in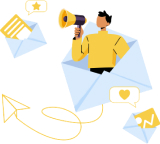 Love our blog posts?
Subscribe to get updates directly to your e-mail inbox
Popular Posts
Related Posts