Blood on the Roads
Posted on January 05,2023
Indian roads, which account for the highest fatalities in the world, became more dangerous in 2015 with the number of deaths rising nearly 5% to reach 2 lakh. This translates to 400 deaths a day or one life snuffed out every 3 minutes. The number comes as a wake-up call for the government which has set a goal to reduce road fatalities by 50% by 2020.
Highest ranked country in road deaths:
According to WHO statistics, India is the highest ranked country when it comes to the number of road traffic deaths. Moreover, despite being the 5th largest car market, India is the only country in the top ten car markets to lack proper safety regulations and testing programs.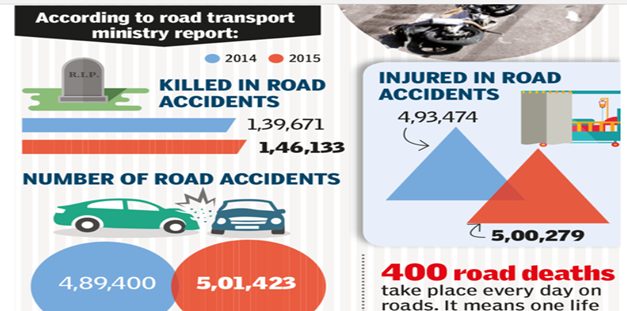 Road safety in India:
Road safety in India is of utmost importance and needs to be addressed sooner rather than later in a well-structured and planned manner. Most Indian cars sold in the market are unsafe. Sweden has one accident in a year. World over, there is huge awareness and concern is often expressed about India and the accidents.
Young casualties:
We lose so many of our youngsters to these accidents. 54.1 per cent is the share of fatal accidents that involve people in the age group of 15-34 years, the largest share of road kills – a number that was at 34 per cent earlier. Road accidents cause India an estimated three per cent of its GDP (Gross Domestic Product) every year.
Increase in road accidents:
In the last decade, (2005 to 2015) the percentage of road accidents, fatalities and injuries has increased by 14.2 per cent, 53.9 per cent and 7.5 per cent respectively. Tamil Nadu has the highest number of road accidents (state-wise), Amritsar has the highest accident severity, i.e., number of deaths per 100 accidents. In 77.1 per cent cases, the driver was found to be at fault, while speeding was the biggest reason within this category.
Deadliest Roads:
In January 2016, the Union Ministry of Road Transport & Highways and Shipping announced to spend Rs.11,000 crore in the next five years to fix 726 black spots on Indian roads. As per government guidelines, a black spot is identified as a location on a national highway where more than 10 accidents take place in a year. The World Health Organization says that India has some of the world's deadliest roads.
Factors responsible to road accident killing:
With more than five lakh road accidents every year, Indian roads claim the lives over 2 lakh citizens annually. Speeding is responsible for maximum number of deaths on Indian roads. Overloading of vehicles, especially trucks, makes it difficult to control them when it is needed. Around 30% of road accident deaths were of riders or passengers of two-wheelers.
Require a Safe Driving Policy:
Many researches and surveys are being carried out to control the mortality rate during the accidents on the Indians roads. It is usually recommended that strict licensing procedure being implemented. It is also advised to impart a minimal level of education related to road safety especially for young children. So, basically, we should look forward to formulate a comprehensive safe "Driving Policy."
A majority of accidents occur either due to the driver's error or due to the negligence of the safety norms. Driver fatigue, drunken driving are some other reasons of the mishaps. The actions like dangerous overtaking, lane cutting, jumping of signals, erratic parking can be counted as major causes for the calamities on the roads. Life don't have reset button. Drive safe and stop blood on the roads.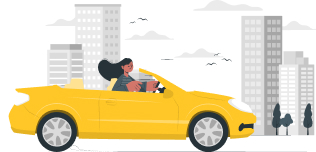 Make your ride reliable, Insure it now! with Shriram General Insurance
Insure Now
You may be interested in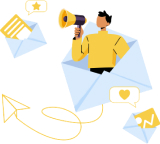 Love our blog posts?
Subscribe to get updates directly to your e-mail inbox
Recent Posts
Categories
Car Insurance
Two Wheeler Insurance
Motor Insurance
Personal Accident Insurance
Commercial Vehicle Insurance
Travel Insurance
Home Insurance